April 2023
We would like to introduce you to Ralph, the new spokesperson for the global campaign that bans tests and experiments on animals in the cosmetic industry.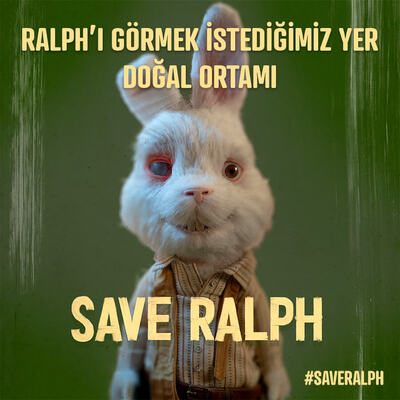 We support the #SaveRalph campaign, which aims to create social awareness in the face of this ongoing cruelty. We recommend watching the stop-motion short film below that depicts this preventable issue.
Save Ralph #SaveRalph
The short film 'Save Ralph,' produced by Humane Society International and featuring a multinational cast including Taika Waititi, Ricky Gervais, Zac Efron, Olivia Munn, Pom Klementieff, Rodrigo Santoro, Tricia Helfer, tackles the cruelty of experiments on animals in an original and unexpected way.
...
As the Akten Family, #SaveRalph gives us hope.
The film uses the story of a rabbit to shed light on the plight of countless rabbits and other animals in laboratories worldwide. As the Thalia Natural Beauty family, from the very beginning, we have stood against tests and experiments on animals and have strived to create awareness. We are also sharing the statements of our Sales Manager Banu Çelikoba on this matter with you.
Banu Çelikoba, Sales Manager at Akten Cosmetics,
"From the beginning, the greatest strength and distinction of Akten Cosmetics and our Thalia Natural Beauty brand have been nature and naturalness."
With the slogan 'Living Naturally is Your Right,' we have emphasized our respect for nature and all life in nature. We have made it our mission to convey the enthusiasm, goodness, and purity that come from nature to our consumers. None of the products we produce in our factory are tested on animals.
However, at this point, we would like to clarify a misconception.
Tests on animals have been banned under Article 2 of the Cosmetic Regulation No. 25823, which came into effect on May 23, 2005, and was revised in 2016. This is not an optional practice.
For this reason, the use of labels such as 'Not tested on animals' or distinctive logos on products has also been prohibited due to the potential for unfair competition.
We would like to once again remind you that Thalia Natural Beauty products are not tested on animals, and we thank you for your sensitivity.
You can find detailed information about the campaign below.
https://www.hsi.org/saveralph/