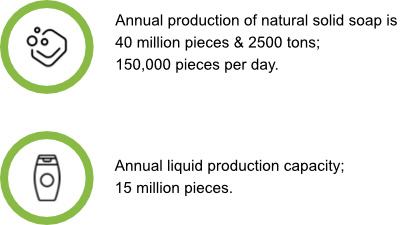 Our production facility is organized with an effective management system, that allows us to be highly flexible, adapt to specific needs and produce low volume batches.
We know that innovative brands need products that are quickly adapted to market demands. That is why we offer a wide range of beauty products with low production volumes.
Production Capacity
1-Annual production of natural solid soap is 40 million pieces or 2500 tons; which equates to 150,000 pieces per day.
2-Annual liquid production capacity is; 15 million pieces.
Graphic Design & Branding
Packaging is a major key to success of a brand or product.
We offer our business partners full design support eliminating the need for them to allocate extra resources to the design process. This enables them to transfer their resources to other areas, simplifying their work.
Our creative experts in our design team offer professional design service and packaging solutions in line with the latest trends. Whether it's simple label arrangements or a completely new product design, we fulfill all demands and support our customers to enter the market with fast and competitively stylish designs at affordable costs.
Filling & Packaging
Akten Cosmetics offers maximum flexibility and diversity in it's production lines. In addition to bulk production, we can produce volumes ranging from 3 ml to 1000 ml for liquid products, and between 50 gr and 350 gr for natural soaps.
We operate a number of automated production lines capable of filling jars, tubes and bottles of all sizes.
With our expertise, resources and dedicated staff, AKTEN provides coding, labelling and packaging services so that products are ready for distribution anywhere in the world. We adhere to the exact specifications of our clients' secondary packaging requirements, such as outer boxes or labelling, and offer end-to-end solutions, making products shelf-ready.